Ahrefs Webmaster Tools (AWT) is a free SEO tool which aims to bridge the gaps in Google Search Console (GSC). AWT isn't too dissimilar from GSC and offers much of the same functionality. However, what GSC does well, AWT does better. In fact, it does such a good job that it rivals a lot of paid SEO tools.
This post covers every feature in Ahrefs Webmaster Tools and explains why you need to create an account right away.
What does Ahrefs Webmaster Tools do?
Ahrefs Webmaster Tools helps you monitor, improve and report on your website health, backlinks and keyword rankings.
The platform splits this functionality into two sections; Site Audit and Site Explorer. These were once part of the paid version of Ahrefs, but have recently been made free for all.
In order to use AWT, you have to be able to verify your website. If you want to be able to explore other websites you'll need an Ahrefs paid plan.
Personally, I use AWT in combination with Ubersuggest. AWT is great for monitoring website performance, whilst Ubersuggest is great for keyword and competitor research.
AWT Usage Limits
One of the biggest bugbears about "free SEO tools" is that they're never actually free. I hate learning about a shiny new tool, only to realise I need to pay for key functionality. To save you time, here are the usage limits (per project) in Ahrefs Webmaster Tools.
| | |
| --- | --- |
| Site Audit | Limits |
| Crawl credits per month | 5,000 |
| Data retention | 3 months |
| JavaScript rendering | Yes |
| Site Explorer | |
| Backlink index | "Live" only |
| Rows per report | 1,000 |
| Rows per month | 100,000 |
| Export, rows per report | 1,000 |
| Export, rows per month | 10,000 |
| Advanced Reports | |
| Content gap, rows per report | 10 |
| Link Intersect, rows per report | 10 |
| Competing pages / domains | 10 |
| Top pages / subfolders / subdomains, rows per report | 100 |
| Historical index | No |
Data privacy concerns
A number of AWT users have highlighted issues around data privacy. These concerns are founded, as it's suggested that Ahrefs could freely use your Google Analytics and Google Search Console data. The quote below features the line from the Ahrefs terms and conditions that people are getting het up about.
"Ahrefs may anonymize and aggregate any data you share with the Service, including data associated with your Google Analytics and Google Search Console accounts, and use it without identifying you for purposes of improving the Service."

Source: Ahrefs Terms & Conditions
Is this a problem that's exclusive to Ahrefs Webmaster Tools? I don't think so. This is taken from their general terms and conditions page, which means it applies to paid users too. If you dig deep enough, I'm sure you'll find similar terms and conditions from using competitor tools.
If you are concerned with data privacy then don't verify AWT using Google Search Console. This is the recommended and easiest way to get access to the tool, but other methods will ensure you keep your privacy. Personally, I verify my sites using the TXT record method whenever possible.
Dashboard
The Dashboard in Ahrefs Webmaster Tools allows you to see all your projects at a glance. There are no project limits in AWT, which is refreshing as most paid tools have such limits. On the AWT dashboard you get six widgets for each site.
Health Score – A score used by AWT to summarise the technical SEO health of your website
Domain Rating – The strength, on a 100-point scale, of a domain's backlink profile
Referring Domains – The number of external domains pointing at your website
Backlinks – The number of unique external backlinks to your website
Organic Traffic – The estimated amount of organic traffic to your website
Organic Keywords – The number of keywords your website is ranking for on Google (within the top 100 results)
Here's what a project looks like from the Ahrefs Webmaster Tools dashboard:
There's also an additional "Tracked Keywords" widget, as seen in the bottom right of the picture. You can't track specific keywords in AWT, but this isn't a dealbreaker. There are plenty of other affordable keyword rank tracking tools, such as Ubersuggest.
If you click the three dot menu in the top right you'll be able to set up email notifications and edit your project settings. Notifications can include backlink, keyword and site audit reports which can be delivered on a monthly basis.
You'll also notice that there's a link titled "disavowed links". This allows you to manage your disavowed backlinks from within AWT. You can select URLs / domains in site explorer (which we'll cover later) and create a disavow file from within AWT. Not bad for a free tool!
Site Audit
Site Audit is comparable to the Coverage section of GSC, which allows you to audit your website for SEO issues. Ahrefs Webmaster Tools checks your website against 100+ SEO issues, which is far more in-depth than GSC. What's more, it also gives you detailed advice on how to fix them from within the platform.
Site audit is most comparable to the functionality offered by Screaming Frog SEO Spider. Whilst I'm an advocate for Screaming Frog, the way data is visualised in AWT is much more user friendly, making it ideal for client facing reports.
To get started with site audit, click on the 'Site Audit' item in the top level navigation. You'll then see a dashboard containing all your verified sites. Click the site you want to audit and you're ready to go.
Let's take a look at each section of site audit in Ahrefs Webmaster Tools.
Overview
The overview tab is a dashboard where you can see all the SEO issues on your site at a glance. Here's a preview at what the site audit overview dashboard looks like.
If you've used other SEO tools before then these sort of dashboards will look familiar to you. On the overview dashboard, you'll be able to see a number of widgets. The widget you want to focus your efforts on is health score. Health score is a number (out of 100) that reflects how many of your internal URLs don't have errors. The closer to 100, the better. Health score a great indicator of your own SEO efforts. It's also an easy way for non-SEOs to quantify technical SEO progress.
Why is the overview useful? You can see all your key site audit metrics at a glance, providing a client friendly, visual representation of your technical SEO status.
All Issues
The all issues tab drills down deeper into the list of top issues from the overview tab. Remember those 100+ issues mentioned earlier? Well here you can see what they all are by selecting 'all issues'. Issues are categorised into different sections, such as indexability, and you can choose which ones are shown by clicking the 'manage list' button.
Why is the all issues tab useful? The all issues tab is great because it allows you to track the progress of your technical SEO fixes. Each time a crawl is performed you'll be able to see how many issues have been fixed, or how many new issues have arisen.
Crawl log
The crawl log records the most recent Ahrefs crawl of your website, including how long it took and how many URLs were crawled. At the bottom of the page there's a list of the URLs crawled, as well as how long it took to crawl them.
Why is the crawl log useful? It enables you to diagnose any problems that arise when Googlebot crawls your website.
Bulk export
Bulk export is one of the most useful tabs in site audit. You're given a list of issue titles, a brief description and the number of issues found.
Why is bulk export useful? You can export CSVs of each individual issue highlighted in AWT for processing outside of the tool. This could be given to a developer to implement fixes, or it could be used to create custom reports.
Tools
Page explorer
Page explorer allows you to 'explore' the pages on your site by content type. As you can see from the example below, you're able to choose a specific content type and see details, such as inlinks and depth.
Why is page explorer useful? You can use page explorer to investigate your pages in granular detail
Link explorer
Link explorer lets you see the different types of links on your website. From here you can deep dive into your internal links to check their health and identify any crawling and directive issues.
Why is link explorer useful? You can use link explorer to investigate your links in granular detail
Link opportunities
Link opportunities helps you find on-page content for internal link building. There are many paid all-in-one SEO tools that offer this functionality, so it's great to find one that does it for free. The link opportunities tool finds relevant keywords across your site and suggests opportunities for internal linking. The example below shows a page on this website that contains the phrase "free heatmap".
I'm able to build a contextually relevant internal link by using the anchor text "free heatmap" to the recommended target page.
Why is link opportunities useful? It allows you to build contextually relevant internal links, improving website architecture and crawlability.
Structure explorer
Structure explorer allows you to isolate issues to specific parts of your site. The tool lets you easily visualise issues using coloured bars. You can segment your data based on the following criteria:
HTTP status code
Content type
Depth
Indexability
Organic traffic
Referring domains
Crawled URLs
The example below shows the indexability segment applied to the blog section of this website. As you can see, the category pages are non-indexable.
Why use structure explorer? To diagnose issues that are exclusive to a certain part of your site, such as folder specific robots exclusions.
Reports
Internal pages
The internal pages report gives you an overview of the number of pages crawled, whether these pages were HTML or non-HTML and whether there were any protocol errors e.g. 404 pages or 301 redirects.
Why is the internal pages report useful? It gives you an overview of your previous crawl performance and highlights any big issues with crawlability, such as 404 pages.
Indexability
The indexability report does exactly what you'd think. It shows you which pages can be indexed, and which can't. It'll show you what the causes of non-indexation are, as well as canonical and robots tag distribution across the site.
Why is the indexability report useful? It helps you to identify any issues that may be preventing any of your pages from being indexed.
Links
The links report lists all the internal and external links that were found on your website. The report shows you the different anchor text used by links across your site, and will highlight any broken internal or external links.
Why is the links report useful? It highlights the broken links on your website. Whether they're internal, or even external. This allows you to keep your website error free and user friendly.
Redirects
The redirects report focuses on any internal redirects on your website. You can check for any redirect chains, including whether these chains are broken at any point. The report also shows you any redirect loops that might prevent your page content from appearing altogether.
Why is the redirects report useful? It lets you identify any redirect issues on your website which may be impacting user experience. The redirect loops report is particularly useful as redirect loops can cause serious usability issues. Even more so than 404 errors.
On page
The on page report looks at elements that are crucial for effective on page SEO, including title tags, meta descriptions and H1 tags. These are assessed to ensure there are no duplicates or missing tags and that they're all the correct length. The report also allows you to visualise URLs by word count.
Why is the on page report useful? It enables you to check any tag related issues on your pages. The word count visualisation is also powerful as you can identify any pages that are thin on content.
Social tags
The social tags report monitors any open graph and twitter cards that are missing or incomplete. Social tags determine website appearance when shared on the major social networks, such as Facebook, LinkedIn and Twitter.
Why is the social tags report useful? Social media can be a key driver of traffic to your website. By improving the appearance of your website on social media, you can increase Click Through Rates (CTR) and generate more website traffic. For this reason, it's important to make sure social tags are correctly implemented.
Duplicate content
Duplicate content can cause serious SEO issues and must be handled appropriately, or removed. The duplicate content report highlights duplicate content across your pages, including duplication in your title tags, meta descriptions and H1 tags.
Why is the duplicate content report useful? You can see duplicate content issues at a glance, which makes it easy to quickly identify issues. It's also possible to track issues between each site crawl, allowing you to monitor progress.
Localization
The localization report focuses on the hreflang attribute. Hreflang helps you to define which page should be shown to users that speak different languages and are based in different regions. The localization report identifies issues with hreflang on your website, including any pages that are missing the tag.
Why is the localization report useful? The localization report is only useful if your website has different pages for different languages / regions. You can use the localization report to identify hreflang issues and ensure these are correctly set up.
Performance
The performance report is one of the most useful in AWT. It scans your entire website for page speed issues, giving you an average load time and time to first byte for all pages. These are then put into three categories: Fast (<200 ms), Slow (300-500 ms) and Too Slow (>500 ms).
Why is the performance report useful? The Google Page Experience Update will bring page speed to the forefront of Google's ranking algorithm. Page speed will become important for your whole site, not just your high traffic landing pages. This makes the average page speed metric incredibly useful as you can identify slow loading pages and make changes to improve the average.
Images
The images report highlights images with large file sizes, which are a common cause of slow loading times. The report also dives into alt text, file types and linking issues, such as redirects.
Why is the images report useful? The images report helps you to identify any issues with images that might be impacting your SEO.
JavaScript
JavaScript (JS) can cause huge SEO issues that are often hard to spot. These can range from problems with rendering page content, to page speed issues. Luckily, AWT crawls and renders JS, so can highlight some of the biggest issues. These include large JS file sizes and JS that might be blocked by robots.txt exclusions.
Why is the JavaScript report useful? It helps you to uncover any JS issues that might be harming your SEO
CSS
Cascading Style Sheets (CSS), like JS, can cause page speed issues. The CSS report is almost identical to the JS report, highlighting CSS file load times and robots.txt exclusions and how these issues are distributed across the site.
Why is the CSS report useful? It helps you to uncover any CSS issues that might be harming your SEO
External pages
The external links report monitors your outbound links, checking for any broken and redirected links. This means you can change the target URL for any broken links and change any links that redirect.
Why is the external pages report useful? A study by Reboot Online found that outbound links have an impact on SEO. With that in mind, it's important to make sure your outbound links aren't broken and are pointed at live pages.
---
Site explorer
Site explorer could be compared to the links and performance sections of Google Search Console, but it delivers so much more than that. GSC allows you to see the top links to your website and the search queries driving traffic, but as expected, AWT does a much better job.
With Ahrefs Webmaster Tools you can see more backlinks, more search queries and more data. This makes it more comparable to a paid tool like SEMrush, or Ubersuggest. Site explorer lets you explore your backlink profile, organic and paid search presence, top pages and outbound links.
To get started with site explorer, click on the 'Site Explorer' item in the top level navigation. You'll then see a search bar which allows you to "get an in-depth look at the backlink profile and search traffic of any website or URL". This isn't strictly true for Ahrefs Webmaster Tools, as you can only explore your verified sites. With that in mind, type in the URL of the verified site you want to explore and you're ready to go.
Let's take a look at each section of the site explorer in Ahrefs Webmaster Tools.
Overview
The overview tab shows you top level metrics relating to your backlink profile and organic / paid search presence. Here's a glance at what the site explorer overview looks like.
The overview tab leads with top level metrics. If you haven't used Ahrefs, then there are a few things you need to know before we continue.
First on the list is Ahrefs Rank (AR). AR ranks websites based on the size and quality of their backlink profiles. Next to this you'll see the URL rating (UR) and domain rating (DR) of the URL you've searched for. Like Ahrefs Rank, these ratings are based on the size and quality of backlinks to a URL or domain. Generally speaking, a higher DR and UR correlates with higher rankings on Google.
To summarise:
Ahrefs Rank – Relative rank of the website based on the size and quality of its backlink profile
Domain Rating – The strength, on a 100-point scale, of a domain's backlink profile
URL Rating – The strength, on a 100-point scale, of a URL's backlink profile
The overview dashboard also features graphs showing AR, DR and UR changes over time, as well as the categorised distribution of backlinks to your website.
Why is the overview useful? It shows your backlink growth and Ahrefs Rank at a glance, meaning you can keep an eye on your backlink profile without doing a deep dive into the details. That's what the next tab is for.
Backlink profile
Backlinks
The backlinks tab of AWT is its biggest selling point. Ahrefs boasts the world's biggest live backlinks database with around 25 trillion backlinks, so you won't find this information anywhere else.
Here you can tap into this database and see the backlinks pointing at your website. The main view shows you all the backlinks in a list which you can sort and filter. There are also three specific category views; New, Lost and Broken.
Why is the backlinks tab useful? It lets you monitor the quality of your backlink profile, which is a crucial part of off-site SEO.
TIP: Use the Ahrefs disavow tool (linked from your AWT dashboard) to disavow any poor quality links you find.
Referring domains
The referring domains tab gives you a list of all the domains that are pointing at your website. Like the backlinks tab, you can filter the domains you're interested in and there are also different ways of categorising referring domains; New and Lost.
Why is the referring domains tab useful? Backlinks from different domains hold more weight than backlinks from the same domain. Although you can group backlinks by domain in the backlinks tab, this can be quite overwhelming if you have a vast backlink profile. The referring domains tab makes it easier to see the domains that are linking to you, and associated quality metrics, such as DR and AR.
Anchors
The anchors tab shows you all the anchor text pointing at your website in one long list. You can filter the list by individual words, or 'terms', and find the most common variations of phrases used for anchor text.
Why is the anchors tab useful? Anchor text should be relevant to the page it's linking to, meaning the anchor text used to link to your website should be reviewed regularly. By using the anchors tab you can perform the ultimate anchor text audit and identify links that may appear spammy.
Referring IPs
If you want to get even more granular, then check out the referring IPs tab. The referring IPs tab details all the IP addresses of the servers hosting websites that link to yours. You can group IPs by subnet, or simply view all IPs.
Why is the referring IPs tab useful? It helps you to identify patterns between domains. For example, if you were getting a lot of spammy backlinks, such as bad blog networks, these may all be coming from one server. If that's the case, these can be added to your disavow file.
Internal backlinks
Generating incoming, external backlinks is one of the most valuable off-site SEO strategies. That said, internal links shouldn't be discounted as a viable on-site SEO strategy. The internal backlinks tab shows you how internal links are distributed throughout your website, including key metrics such as UR.

Why is the internal backlinks tab useful? The backlinks tab gives you valuable information on how internal links are dispersed throughout your site. Internal links pass PageRank between your pages and Ahrefs themselves have highlighted the importance of internal linking, as it passes PageRank between the pages on your website.
Link intersect
The link intersect tab uncovers sites that are linking to your competitors but not to you. It works in a similar way to the backlink gap tool in SEMrush. Unfortunately, you can only see the top ten domains that are linking to your competitors unless you have a paid Ahrefs plan. It's no big deal though. AWT isn't built for hardcore competitor research.
Why is the link intersect tab useful? It allows you to compare the top domains linking to your competitors and gives you ideas of how you could establish similar backlinks.
Organic search
Organic keywords 2.0
There are two organic keywords tabs in AWT. Organic keywords 2.0, is a new and improved version of the old organic keywords tab which will likely be decommissioned in the near future. Organic keywords 2.0 shows you all of the keywords that your website is ranking for in the Ahrefs database.
As expected from an organic keywords report, you can see search volume, ranking position and the URL that's ranking. In addition, there are a number of other columns that are more akin to paid tools, such as the number of search features on a particular Search Engine Results Page (SERP) and keyword difficulty metrics.
The organic keywords 2.0 tab also features a number of filters that allow you to further refine your results. This is particularly useful if you operate a larger site that generates a lot of organic traffic.
Why is the organic keywords 2.0 tab useful? It allows you to see which keywords your pages are ranking for, enabling you to make adjustments to further optimise these pages. There are a couple of caveats to the report though. Firstly, it doesn't show your keyword ranking movements. The old organic keywords report does show this, so it's likely to be on the development roadmap for organic keywords 2.0. Secondly, it doesn't show historical data, which is reserved for paying customers.
Top pages 2.0
Like the organic keywords 2.0 tab, the top pages 2.0 tab also has a predecessor which will soon be decommissioned. The top pages 2.0 tab shows you all the pages that are driving traffic to your website, including the number of keywords they rank for. There's also a history chart so you can keep track of your traffic growth and keywords ongoing.
Why is the top pages 2.0 tab useful? It gives you an insight into the most valuable pages on your website. This information could then be used to craft an internal linking architecture to improve the flow of PageRank around your website.
Top subfolders
The top subfolders tab works in a similar way to content drilldown in Google Analytics. It shows you the subfolders on your website that are driving the most traffic and are ranking for the most keywords. If you have a broad site architecture, then you can use the built in filters to refine your selection.
Why is the top subfolders tab useful? It shows you how traffic and keywords are weighted to certain areas of your site. This can be useful when conducting a content audit, or when considering a website migration.
Top subdomains
The top subdomains tab operates in a similar way to top subfolders. The only difference is that instead of showing you the top subfolders, you can see your top subdomains.
Why is the top subdomains tab useful? The top subdomains tab is only useful if your website operates over additional subdomains. Most websites don't use subdomains, but for those that do, this tab could prove useful. The main benefits of the top subdomains report come from the paid version of Ahrefs, which allows you to see your competitors top subdomains and find low competition content opportunities.
Competing domains
The competing domains tab shows you your top organic competitors in a certain region e.g. UK. From here you can view the keywords that are unique to you vs your competition, and the common keywords you both rank for.
Why is the competing domains tab useful? If you're interesting in finding out who your real organic competitors are, then the competing domains tab will come in handy. It can also help you to establish content gaps where your competitors may have covered topics that you haven't yet capitalised on.
Competing pages
The competing pages tab is similar to the competing domains tab, except it shows you the top pages that are competing instead of the domains.
Why is the competing pages tab useful? The competing pages tab is arguably more useful than the competing domains tab. You can pin point the exact pages that are competing with your highest traffic driving pages. By analysing these competing pages you can see what your content might be missing and update content to cover these gaps.
Content gap
The content gap tab fuses what's great about the competing domains and competing pages tabs. The tool lets you see the exact keywords that are unique to your competitors. You can compare up to ten competitors in one go, allowing you to get really granular with your analysis.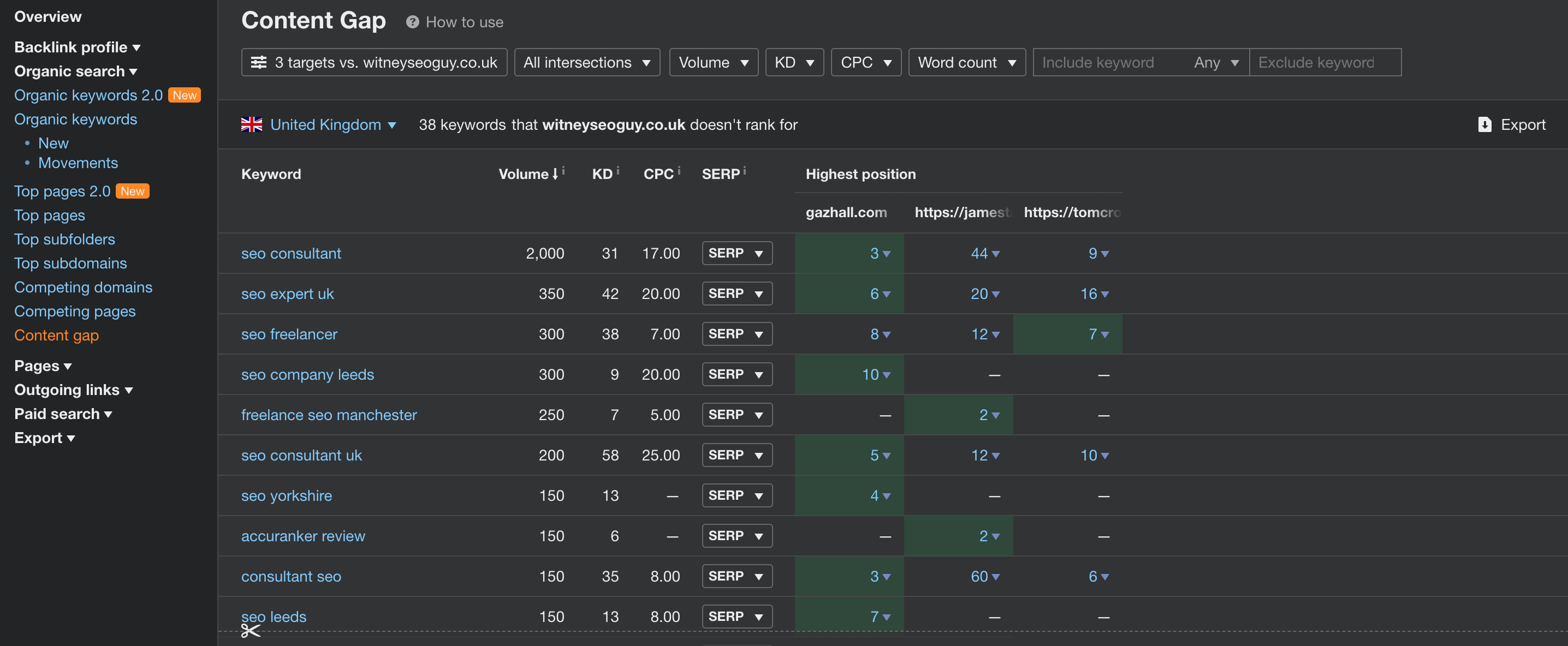 Why is the content gap tab useful? It allows you to see which keywords your competitors have in common. This information can be used to establish gaps in your own content that might need addressing.
Pages
Best by links
The best by links tab displays the most popular pages on your site based on the number of links pointing at them. The tab shows you more than just external links though, as the filter allows you to view the same report based on your internal links.
Why is the best by links tab useful? Pages with many links are more authoritative. By linking authoritative pages to other pages you're helping to spread this authority, or PageRank, throughout your website.
Best by links growth
The best by links growth tab shows how the number of domains pointing at your pages has changed over the past day, week or month.
Why is the best by links growth tab useful? It gives you an insight into the growth of your backlink profile, and which pages are the growing in popularity.
Top content
The top content tab gives you an insight into the popularity of your content on social media. From here you can see which website content has been shared across Twitter, Facebook and Pinterest.
Why is the top content tab useful? It provides a social listening snapshot that gives you an idea of which content is the most shareable. This data can be combined with the search functionality of Twitter, Facebook and Pinterest to track down shares and engage with those sharing your content.
Outgoing links
Linked domains
The linked domains tab shows all the domains that your domain is linking to.
Why is the linked domains tab useful? It can show you all the domains you're linking to at a glance. If there are any domains in there that you don't like the look of, it's easy to track them down and remove the links.
Anchors
The anchors tab lists the different variations of anchor text used in your internal and external links.
Why is the anchors tab useful? Scanning through your external anchor text might give you ideas for internal link opportunities. Old posts may link out to resources that you now have on your own website. Consider changing these external links to internal links. This can help to keep PageRank, and your users, on your website.
Broken links
The broken links tab highlights any broken outgoing links on your website.
Why is the broken links tab useful? No matter if the link is internal or external, broken links are bad for user experience and crawlers. The information found in the broken links tab can be used to fix any outgoing broken links and keep your website in good technical health.
Paid search
The paid search drop down contains three tabs: PPC Keywords, Ads and Top landing pages. These show you the keywords, ads and landing pages you're using in Google Ads. They're worthy of a mention, but no more than that. They essentially just show you the same information you can find in Google Ads. These features become useful when analysing the PPC performance of your competitors. But that feature is reserved for Ahrefs users on a paid plan.
Export
AWT allows you to export data on a tab-by-tab, or report-by-report, basis. However, to take full advantage of their data and do a bulk export, you'll need an Ahrefs paid plan.
Conclusion
It's clear that Ahrefs Webmaster Tools is a powerful all-in-one SEO tool. It has its limitations, but it's still one of the most powerful SEO tools I've used.
If you need to run an SEO audit then the Site Audit section ticks all the boxes. The only area it falls slightly short is Site Explorer, but you'd be hard pressed to find a tool that offers this functionality for free. And that's the best thing about Ahrefs Webmaster Tools. It's free, and it's awesome. Create an account today and check it out for yourself.